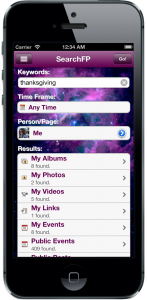 Version 1.2.1 of Search For Posts iPhone app is now in the AppStore.
What's new:
Page profile screens now show status updates, photo albums, videos, links, events and notes of the page.
Photos search now will find older photos from special albums like Mobile Uploads, Timeline Photos, etc.
Photos results screen is now dynamically updated as additional search results are received while the search is in progress.
Added Tips section to the Options screen. This section will be updated periodically with tips on how to accomplish certain tasks with the app.
Fixed displaying page profiles from Favorites.
Fixed the error that occurred while searching for links of pages that have a lot of links. Now up to 1000 links will be searched.
Fixed the bugs in image loading that caused wrong image to be displayed in the search results.