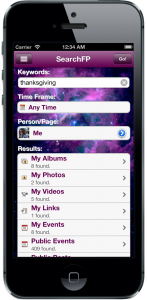 Version 1.2 of Search For Posts – Facebook Search Engine iPhone app has been released.
What's new in this version:
– More comprehensive search for user's or page's posts utilizing the news feed.
– Search for comments. You can search by keywords contained within the text of the comments or within the name of the person who posted them.
– New time frame presets. Improved search for posts within a specific time frame.
– Improved presentation of search results.
– New Favorites list where you can add frequently searched users and pages.
– You can now see all status updates, photo albums, videos, links and events of a user on the user's profile screens.
Search For Posts app lets the users search for Facebook posts, photos, videos, links, events and more based on keywords and/or time frame.
Download the app here: http://searchforposts.com.